FOOD PROCESSING DRAINAGE SYSTEMS
THERE IS A LOT TO CONSIDER WHEN DESIGNING A FOOD PROCESSING DRAINAGE SYSTEM – SANITATION, EXTREME TEMPERATURES, CHEMICALS, CLEANING PROTOCOLS, ETC.
If you have forklifts or other heavy equipment on the facility, safety and load class ratings are essential characteristics of the drain. For meat handling, cheese processing, dairy farms or other such facilities, there are strict sanitation protocols to follow. According to data from the USDA, nearly 40% of Listeria (a bacterium that causes a serious infection called listeriosis) are found in floor drains in Meat Plants.
This is a guide to give you an idea of what you will need to consider when putting drains into a facility. As well to highlight problems created with poor planning or misunderstanding some of the traditional drain systems and what you can do to eliminate these problems.
4 THINGS YOU WILL WANT TO CONSIDER WHEN SELECTING DRAINS IN A FACILITY
HAVING A DRAIN IN AN SQF CERTIFIED FACILITY
HOW TO MAKE SURE YOUR DRAINS MEET SQF STANDARDS
HAVING DRAINS THAT MEET THE NSF/ANSI/3-A STANDARD FOR FOOD PROCESSING EQUIPMENT
---
4 THINGS YOU WILL WANT TO CONSIDER WHEN SELECTING DRAINS IN A FACILITY
Drains are one of the most important things to have in a food processing facility so it's important to make sure you pick the right drain system for your facility. Here are some things to consider when selecting your drains.
1. REGULATION, CODE AND GUIDELINES FOR SANITATION
North America has strict protocols for cleaning food processing drainage systems. But why should you consider drain cleaning protocols before the plant is built?
"Because most of the microorganisms, food residues, and other soils in food processing plants are funneled down into drains during the cleaning process, most microorganisms are found there, where optimal conditions for their growth and multiplication are readily available."
Drain Sanitation Delivers Peace of Mind, by Food Quality & Safety
Food processing drainage systems require thorough cleaning every day. This can include scrubbing the surface of the drain and this can be a time consuming process. Drains also need to be cleaned weekly. Choosing a drainage system that can minimize your cleaning and labour costs is a great way to also ensure your facility will be sanitary. For detailed information on regulations and guidelines for sanitation, have a review of this guide on Effective Sanitiaton Practices
2. EASY TO CLEAN
Grates trap mud and other sediment and become difficult to clean. Grates need to be removed to be thoroughly cleaned. Some of the grates are locked for safety reasons, which can lead to even more difficulties while cleaning the drainage system.
Especially for food processing facilities with intense cleaning requirement, keeping the facility sanitary and hygienic is a extreamly high priority.
3. CAPABILITY TO HANDLE EXTREME TEMPERATURES AND CHEMICALS
Food processing drainage systems need to handle liquids of all temperatures to be drained and separated from the sewage system. The material of the drain channel will allow or restrict what fluids can be used. In most cases, smooth stainless steel is recommended as it can handle extreme temperatures and resist bacteria.
Resistance to corrosive materials is another factor for a drainage system, where cleaning agents, chemicals, acids are involved. Depending on the circumstances, the pH scale varies in each facility. Think about the types of chemicals that will flow through the drain.
As a result, you need to consider the drainage material for corrosive resistance reason.
Stainless, galvanized steel and fiberglass perform differently in acid or alkaline environments.
Below is the pH scale. If you have liquids from 0 to 4 pH levels or 11 to 14pH you may want to consider using stainless steel to resist corrosion.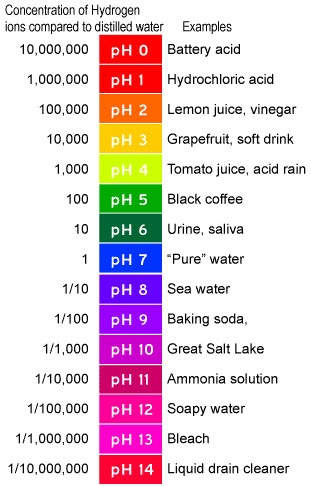 Stainless steel outperforms iron and other drainage materials. It can bear high temperature liquids and corrosive materials. In boiling environments with 20% Phosphoric Acid (which is used to acidify foods and beverages), the Corrosion Rate is less than 1.0 mm/a.
4. SAFETY
Make sure the drainage system is safe for your staff or customers to walk on, especially if you have a forklift or other heavy traffic in your plant or warehouse.
The safety of the public, staff and others should be topof mind when constructing drainage. Some drainage systems are known for breaking down and causing dangerous situations. Drains need to be maintained and replaced if necessary to eliminate the safety risks. In one case, a women tripped and fell in a drainage system that wasnt properly cared for. She was able to successfully sue the company resposible and win a $456,000 payout for her injuries.
---
DIFFERENT TYPES OF DRAINS
While trench drains have been around for a long time and have been the go to for drain solutions in a plant, it's not a perfect solution. Below is a list of different drains that food process plants consider in their facilities.
Point Drains
A point drain collects water from a single point, or gully (similar to the drain in the middle of a shower floor). Point drains are put in locations that need drainage from a specfic point due to structural needs. The point drain connects to drainage pipes below the surface.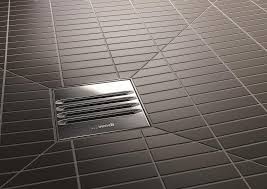 While point drains are well-suited to some projects, they often require a great deal of excavation and deep trench support. Using multiple point drains are generally less atsthetically pleasing and must be carefully designed to ensure they remove all the water in a facility.
They can be hard to maneuver over, particularly in high traffic areas. In addition, indoor point drains require four slopes in flooring to properly drain which adds extra instalation costs. Additional sloped floors become difficult for heavy equipmentand carts as they try to move around.
Cast-In-place Trench Drains
Cast-in-place concrete is a traditional method proven for providing an extreamely strong drainage solution. Cast-In-Place drains require grates to cover the trenches. These grates can be made from a wide variety of materials, from plastic to steel.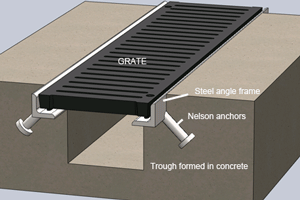 Overall, the disadvantages of this system far outwigh the benifits. Cast-in-place trench drainsrequire a great deal of labor and time to install. They also present several limitations over the lifetime of the drain, including non-locking grates as well as flat and rough internal surfaces. These rough surfaces can disintagrate over time.
In addition, the grates covering the trenches have several drawbacks. They are tripping hazards and can cause problems users in wheelchairs or with wheeled carts. They trap bacteria and are time consuming to clean. Grated trench drains are expensive to maintain and require replacement over the life of the drain. Broken or missing grates are dangerous and a liability risk.
Slot Drain Systems
Slot drains offer many advantages over cast-in-place and HDPE trench drains. They are easy to install, incredibly stron, and exceptionally durable. They also give you excellent hydraulics, chemical resistance and structural integrity.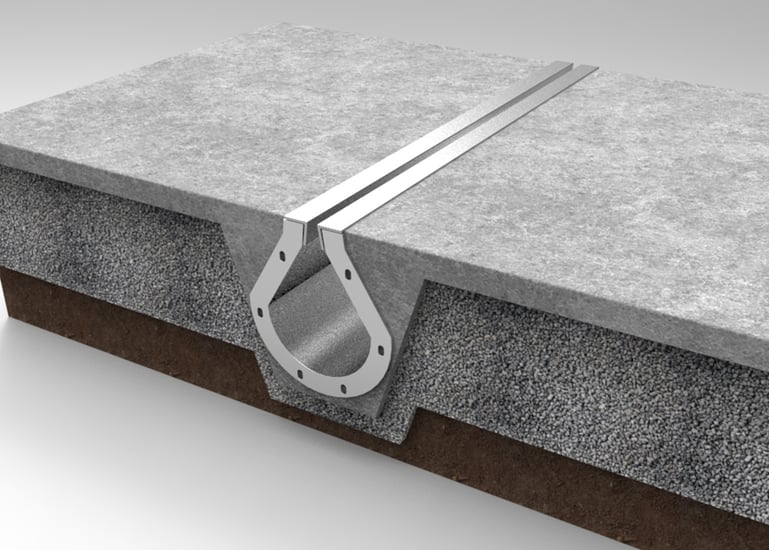 Most importantly, they do not have grates. This improves saftey, accessibility, makes them easy to clean and much more sanitary. The lack of grates reduces initial expense as well as ongoing maintenance costs over the life of the drain.
Slot Drain's modular trench drain systems are well suited for even the toughest applications, including manufacturing and industrial facilities and food processing plants.
For more info on different types of drains check this blog post http://blog.slotdrainsystems.com/different-types-of-drainage-systems
Other things to look for when planning your drains include the following:
The biggest advantage of using Slot Drain® in your food processing facility is how sanitary the system is. The stainless steel surface can be used wherever floor or ground surfaces are subject to fluids.http://blog.slotdrainsystems.com/food-processing-facility-drain-sanitation-guidance
Due to Slot Drain®'s precise slope, smooth interior and the addition of flush valves, it is self-flushing and easy to maintain.A specially designed cleaning paddle also makes cleaning much easier. No grates need to be scrubbed.To clean the drain channel, just simply move the paddle along and all the sediment will be moved towards the catch basin and strainer basket.http://blog.slotdrainsystems.com/easy-cleaning-slot-drain
CIP is a method of cleaning that is commonly used in hygiene critical industries, such as food and beverage processing, dairy, brewing, pharmaceutical and cosmetics. Not having gating of any kind makes CIP much easier. It is ideal for a facility that requires frequent cleaning and sanitation. For more information on CIP, download the ebook:
Slot Drain® is Load Class Rated to Class F, which can withstand the weight of an airport. http://blog.slotdrainsystems.com/slot-drain-durability-receives-highest-csa-load-class-rating
Cleaning the Slot Drain® can be done automatically when using a Flush Flo System.Ideally you want a drain solution that takes less time to clean which in turn would cost less.http://blog.slotdrainsystems.com/how-much-do-you-spend-per-year-cleaning-your-trench-drain
Slot Drain® can accomodate liquids up to 27 gallons per minute (per foot of slot). Which calculates to 270 gallons per minute, per 10 foot section.http://blog.slotdrainsystems.com/go-with-the-flow-trench-drain-flow-rate-comparison
Slot Drain® is a one-piece, built-in, sloped drainage system with a linear slot in the floor surface at a constant elevation. The drain itself is mounted in the floor assembly and integrated with the floor during the concrete pour.http://info.slotdrainsystems.com/slot-drain-install-video
---
Having a drain in an sqf certified facility

What is SQF?
SQF stands for Safe Quality Food and is a Food Safety Management Cetification Scheme, created and managed by SQF Insitute.
Its requirements provide a rigorous sustem to manage food saftey risks and provide safe products for use by companies in the food industry.
It is a GFSI recognized food safety certification. This allows your customers to have confidence in your food safety program and know that you have a rigorous food safety system in place.
What are the Benefits of Being SQF Certified?
Managing Risk
Building an SQF System will provide your company with effective management of food safety hazards by creating an environment capable of producing a safe product and a management system to continually manage, monitor, validate and improve the system.
Maintain Current Customers
Statistics show that approximately 1 out of 4 certified companies are asking their suppliers to achieve certification. Chances are that if you have not been asked yet, you will be asked in the near future. Starting on your certification can help you stay competitve and qualified to work with your current customers.
Increase your Market Reach
Large retailers and multinational manufacturers or processors are also demanding certification of their suppliers. Having SQF Certification means you are qualified to supply these organizations or their suppliers, opening up a large market for your products.
Prepare for New Regulations
Countries across the globe are making changes to food safety regulations, including the United States and its Food Saftey Modernization Act (FSMA) SQF prepares your orginization to meet many or most of the FSMA requirements.
SlotDrain meets SQF standards and has drains in a varity of food processing plants that are SQF Certified.
Examples of SQF Certified Facilites that have Slot Drain Installed Include:
Dole

Idahonan Foods

Quaker Maid Meats

Sungold Foods

Tolleson Dairy
---
HOW TO MAKE SURE YOUR DRAINS MEET SQF STANDARDS
According to the SQF Code Edition 7.1, ( http://www.sqfi.com/wp-content/uploads/SQF-Code-Ed.-7.1-Module-11-Guidance-Document.pdf) there are many important considerations for your drainage system.
In the Floors, Drains, and Water Traps section of the SQF code lists the following:
-Floors shall be constructed of smooth, dense impact resistant material that can be effectivelygraded, Drained, impervious to liquid and easily cleaned.
-Floors shall be sloped to floor drains at gradients suitable to allow the effective removal of all overflow or wastewater under normal working conditions
-Drains shall be constructed and located so they can be easiley cleaned and not present a hazard
-Waste trap system shall be located away from any food handling area or entrance to the premises.
This means that floors, drains and water traps need to be designed and constructed in ways to minamize the risk to product or process safety. Drains need to be easily acessible for cleaning. Grates need to be removable for access and cleaning.These practices must be demonstrated by the supplier to assess the risks to produts and to control those identified food safety risks.
Floors have to be provided with proper drainage. Drains need to be positioned and constructed to allow the effective removal of overflow or waste water under normal working conditions. Where drainage and gradients arenot ideal, a written SOP (Standard Operation Proceadure) shall address the timely and effective removal of waste water to a drain.
In the SQF code Auditing Guidance there are two important points regarding drains.
-Drain locations do not pose a safety risk
-Drain construction does not pose a safety risk
Other sections in the SQF code have the following policys regarding drains
-Sanitary drainage shall not be connected to any other drains within the premises and shall be directed to a septic tank or a sewerage system. In other words you need your sanitary drainage seperated from your process facility drains
-Discharges from defrost and condensate lines shall be controlled and discharged to the drainage system. Condensation from cooling equipment must be piped to the plant drainage system or to the exterior of the building in a manner which does not create pools or standing water. When defrosting refrigeration units in a procssing area, it is necessary that the timing of the defrosting be such that it does not pose a threat to the sanitary conditions of the area or product.
---
Having Drains that meet the NSF/ANSI/3-A Standard for Food Processing Equipment
When considering drains to install in a meat or poultry processing plant you need to make sure that they meet all your hygiene requirements. The best way to make sure you meet those requirements is to follow the NSF/ANSI/3-A standard for food processing equipment.
What is the NSF standard?
The NSF/ANSI/3-A standard are the regulation and guidelines for food protection and sanitation requirements for the materials, design, fabrication, and construction of meat and poulty processing equipment. Operator saftey requirements are not included in this agreement. It applies to the equipment intended for usein the slaughter, processing, and packaging of meat and poultry products, exculding hand held tools and mechanical belt conveyors. These requirements need to be applied by designers and manufactureres who then provide guidance to those who end up using the equipment.
What materials need to be used?
In order for drains to meet the NSF standard the materials that make up the drain needs to be durable, cleanable, and being capable of being sanitized without, breaking, cracking, chipping, flakeing, delamination, erosion, corrosion, abrasion. They need to also be resistant to the penetration of unwanted matter under intended use.
Drains used in the slaughter, processing, and packaging of meat and poultry products need to be constructed of materials that will withstand the humid operating environment, high pressure, and cleaning the drains with hot water and chemicals. Essentially being temperature resistant to processing and heat treatments when necessary. Other examples of this would include being able to handle freezeing and heat sterilization.
Materials for the drain also need to be non toxic, non contaminate or have any adverse effect on the product, be non - absorbent except where technically or functionally unavoidable.
Stainless steel meets all of these standards
Unaccepable materials for food processing equipment include the following:
-Materials containing antimony,arsenic, cadmium, lead, or mercury
-Materials classified as hazardous sunstances(such as carcinogens, mutagens and teratogens)
-Asbestos and asbestos containg materials
-Wood
-Enamelware
-Porcelain
-Leather
-Uncoated aluminum and aluminum alloys
-Uncoated anodized aluminum and aluminum alloys
Planning on using metal for your drain? NSF has standards on that too.
Going with a metal drain is the most commen choice in a food processing facility however under NSF standard there are metals that meet the requirement and some that do not.
Metals that meet the requirement include AISI 300 series stainless steel or stainless steel of a type appropriate for the application as well as when necessary, stainless steel that has been hardened by heat treatment or precipitation hardening including martensitic stainless steel. Other metals and metal alloys suitable for the conditions of being temperature resistant meet the standards as well.
Metals that would not meet the requirement would include copper and copper alloys, bronze, brass and zinc galvanizing.
For more information on having an NSF standard facility see this link :http://standards.nsf.org/apps/group_public/download.php/6462/14159-1i8r1.pdf
---
Other things to consider
Product contact services such as drains need to be manufactured or composed of substances that should not be expected to result directly or indirectly in becoming a component of food or affecting the charecteritics of food. Some examples would include affecting the color, taste, or odor to food.
The drains are reconized as being safe and as such surfaces need to be free of imperfections such as pits, folds, cracks, and crevices.
Drains need to be cleanable and the design needs to ensure that product contact surfaces be easily accessible for cleaning and inspection and if there are any removeable parts in a drain such as grates need to be easily removable and cleaned.